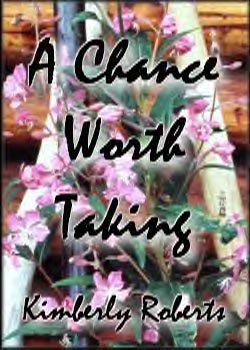 A Chance Worth Taking
ISBN 1-58785-016-8
DiskUs Publsihing
Catarina Garcia, born and raised in Dallas Texas, never dreamed she would have the chance to travel to London on a two-week vacation. London is everything she'd ever imagained and more. Jax Blair, the epitome of the Tall, Dark, and Handsome has decided to take her under his wing and show her the sights. However, Catarina finds herself falling in love with the elusive stranger.
Jax Blair, a self made millionaire and bachelor agrees to show Catarina the London life, but has no idea cupid has diffenent plans for his heart. Somehow Catarina has broken through the barrier Jax worked a lifetime to construct. When Catarina runs away in the middle of the night to return to the States, Jax decides to follow her. After all, she had no right to leave without saying, "Goodbye."

TO VISIT MY MAIN WEB PAGE CLICK THE LINK BELOW
Kim's Web Page
As you know, I also provide reviews for several publishing houses and authors. Follow the links to your favorite category and read reviews of some of the most amazing stories and authors I've found in EPublishing. This business is booming! So many talented writers have been discovered.
ROMANCE
INSPIRATIONAL
SCIENCE FICTION/MAIN STREAM
NON FICTION
JUVENILE
Here's Everlasting, the book prior to A Chance Worth Taking. Click on the banner and it will forward you to a blurb and buying info.