EVERLASTING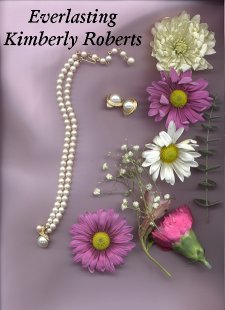 Everlasting is NOW AVAILABLE through DiskUs Publishing. I'm thrilled to publish in the EPublishing Industry.
ISBN 1-58495-103-6
Everlasting

Everlasting is also available in print thru Publish America or your local bookstore.

Moving to Sherry, Maine not only brings Marilyn closer to the corporate position she's strived, but also to the man of her dreams. However, Marilyn must keep everything in focus. Falling in love with the boss could be dangerous when your future lies on the line.
David can't believe it. He's never allowed a woman to take such control of his thoughts, until Marilyn, his new executive. David tries everyway he can to make Marilyn return to Dallas and out of his life, but why does it tear at his heart to do so? Why would she continue to support him, even after an accident that could leave him paralyzed for life?

TO VISIT MY MAIN WEB PAGE CLICK ON THE LINK BELOW
Kim's Web Page
As you know, I also provide reviews for several publishing houses and authors. Follow the links to your favorite category and read reviews of some of the most amazing stories and authors I've found in EPublishing. This business is booming! So many talented writers have been discovered.
ROMANCE
INSPIRATIONAL
SCIENCE FICTION/MAIN STREAM
NON FICTION
JUVENILE
Here's A Chance Worth Taking, the sequel to Everlasting. Click on the banner and it will forward you to a blurb and buying info.





<! - - B E G I N R E A D E R S R I N G-->

<! - - E N D R E A D E R S R I N G - - !>