ROMANCE

An absolute for every romance lover. Carrie Brock has ceated a heartwarming tale of love shaken, lost and found in Heart of the Diamond. Revenge brings two unsuspecting souls together during a time of distrust and anger, but revenge is defeated by a love stronger than any evil foe. Readers, get ready to fall one last time in a pool of utter bliss as you read of a love meant to last for eternity.
Heart of the Diamond
Celia Collier displays a vibrant and breathtaking ardor, in her story, Gideon's Pride. The proud and passionate Gideon of Ross vows he's battled the toughest brigands in the world, until he meets fiery English Noblewoman, Sharyn of Nottingham. Travel through a land of mist and heather, as Gideon and Sharyn tame a love wilder than the majestic lands of Scotland.
Gideon's Pride
Fire Lilies by Cynthia Leal Massey will capture not only your imagination but also your heart. History buffs will be captivated by Cynthia's vivid imaginings of the Revolutionary War and romantic fanatics cush as myself will be swept away to a time where hope and joy are the only true designs of eternal happiness. I'm sure you will enjoy Fire Lilies as much as I.
Fire Lilies
Grab a nice warm cup of tea and settle in for a delightful afternoon reading, Holiday Hearts by some of America's most talented Romance Writers Leta Nolan Childers and friends. You'll soon find yourself drifing into a prism of holiday cheer and magic.
Holiday Hearts
Marion Marshall's portrayal in "Dakota Dawn" adds a refreshing taste to romance. I was quite amazed at the historical accuracy in Marion's tale. She adds enough romance and a touch of mystery to keep the reader anxiously turning the page. I highly recommend this delightful tale of love and adventure, Dekota Dawn.
Dakota Dawn
Love At First Type by Epstein LaRue isn't your average swept off your feet romance. Two opposites become instantly attracted while visiting an online chat room. A Bond that neither can deny becomes the catalyst for a love story that goes beyond all reasoning. Epstein LaRue spins a tale that will capture the reader in the first sentence and keep them spellbound till the end.
Epstein LaRue
"Merry Musings" by the many talented authors of Wordbeams Publishing is a wonderful gift for the holiday season. This is definitely an anthology you won't want to put down. I found myself anxiously going from one story to the next not wanting to miss a thing. I highly recommend "Merry Musings" to any Christmas Story Lover.
>
Merry Musings
"Honor's Reward," by Marion Marshall is a compelling story of love lost and found. Marion Marshall has written a brilliant recounting of the Civil War and the horrors of the North and South. You'll be swept into this amazing story as headstrong Ashley Reynolds learns it's the heart the counts not the outward appearance.
Honor's Reward
Enchanting….Lose yourself in Kiva Fire by Jamie Winn. Shana Jaffe finds herself struggling to protect those she has come to care about and at the same time fight for a love she knows is her destiny. This is one story that will slip into your dreams and carry you away to a love never ending.
Kiva Fire
Settle in front of a warm cozy fire before beginning Gini Wilson's, "Privacy," because you won't want to put it down. Tomorrow never looked so promising as when Mac and Ellie opened their hearts for a love everlasting. Who would have thought that two very strong willed persons would fall head over heals in love with one another.
PRIVACY
Speed of Love by Leta Nolan Childers, is a high speed Contemporary Romance filled with suspense and humor. As Desiree Corbett struggles to unravel the mystery of her beloved uncle's death, she falls head over heels in love with Brandon Turner. Her jealous childhood images of the self-centered racecar driver are shattered as they are thrown together in a deadly game of money and deceit. This is a captivating novel that will keep you anxiously turning the page. A very enjoyable read!
DiskUs Publishing
Reviwed by Shannon Honea
Starkissed by Lanette Curnington is an exceptional read. This is one Futuristic Romance you won't want to miss. Leith and J'Qhir find themselves desperately in love and then torn apart. However, their love continues through numerous tragedies and then finally through a gift of fate find themselves once again in each other's arms. Don't miss out on this exquiste storytelling.
Starkissed
Renewing...A Hole in the Hedge by Grace Casselman will capture your heart. Life for Kaitlin hasn't been easy and she soon finds herself trying desperately to find the love and joy she feels missing in her soul. You'll find this story humorous and heartwrenching as Kaitlin opens her heart to new desires and trusts.
A Hole in the Hedge
Maggie McCarty finds herself fleeing from tragedy in Ireland and into the arms of a strong loving widower, Banjamin Driver. However, fate drags Maggie away from her new love and back to the terror in which she fled. Watch as Maggie becomes a woman of courage and grows bold when faced with grave adversity. Dare To Dream by Tracy Jones is a story to remember.
Dare To Dream
A Suitable Father by Patricia Crossley is a sensual tale that will capture you in the first sentence and carry you through to the end. Maggie, betrayed and heartbroken pulls the pieces of her life together and provides a home for her unborn child. Suddenly, Kurt appears back in her life and she's faced with the truth that he's her son's father. You'll love this story of precious love lost and found.
A Suitable Father
Astounding...Like Twigs in a Storm by Ross Richdale is a tale of three hearts overcoming unbelievable odds. Steve, Lavina and Cathy must learn to lean on one another during times of suffering and heartache in order to gain a life of love and freedom they all desire. You'll be entrance with this remarkable story from beginning to end.
Like Twigs in a Storm
Tell Me No Lies, by Gail Kennedy is a heartwarming tale of love lost and found. Suddenly, without warning, Tucker Malloy is back in Cori Latham's life, bigger and more dangerous than ever. Cori's heart races each time she's near Tucker but she's afraid to tell him the truth her family has kept hidden all these years. Does she tell him and risk everything, their new found love and hope for a future or does she keep the secret hidden for all eternity? You'll find yourself anxious to turn the page and see whether Cori has the courage and faith to trust in Tucker, her one true love.
Tell Me No Lies
Riveting….."Rival Passion" by Shannon Honea captures your imagination in the first chapter and carries you through to the end. Christian Stevenson has no idea what he's gotten himself into when he agrees to look after his business associates headstrong daughter, Johanna O'Connor. Christian find the barriers he's created around his heart tumbling at his feet as he and Johanna discover a love everlasting. Read "Rival Passion" and discover that love for yourself.
Rival Passion
Pretend Mom by Rita Hestand is definitely a must for romance readers. Headstrong and independent Dixie has no idea what hit her when she runs smack into the arms of Mike, a foe from her past. Spine tingling affection and adoration fill this book to the brim for a magnificient time of reading and enjoyment. What woman in her right mind wouldn't want a devasting hunk of a man and a darling daughter to fill the void in her life? Read Pretend Mom and live the love of Dixie, Mike and Mandy as they defeat their pasts and take hold of a bright and blessed future.
Pretend Mom
"Highland Barter" by Anne DeBrahg is a fascinating story based around medieval Scotland. Chalked full of Scottish History, Anne provides a background that even the Scottish Illiterate can believe. Lady Katherine O'Donnell will capture your heart as she learns to trust and love a Highlander she detests and swears she will never marry. Become enraptured by "Highland Barter", for you'll never find another love story so sweet.
Highland Barter
Impassioned Vagabond by Shannah Biondine, is a wonderful and entertaining story from start to finish. While making a living by reading Tarot carts in a trails end saloon, Sparkle LaFleur is litterally thrown in the path of a hired gunslinger named Rafe Conley. From the first moment they laid eyes on one another, their lives and love would forever be entertwined in wonderfully seductive and dangerous adventures. They find a love this is not only stronger than their pasts, but one that would conquer their futures. Shannah Biondine is a talented and witty author, and I enjoyed every word of this fantastic book. I can't wait to read her next novel.
Reviewed by Shannon Honea
Impassioned Vagabond
A fabulously entertaining book Pinch Me, by Maggie Madison. You'll laugh and cry while Megan Harrigan comes to grips with her weight and life style. Megan soon turns from her bounty of beguiling edibles to the delicious specimen of manhood, Greg Carling. Don't miss out on this truly hilarious romantic comedy.
Pinch Me
Alison's Legacy by Toby Heathcotte, is a wonderful and enchanting story. Set in a time when a person's political loyalties could mean a choice between life and death, Alison MacPhearson must choose between her beliefs and a livelihood that she had struggled a lifetime to achieve. You'll be sitting on the edge of your seat as Alison risks everything for the love of a man who would become the enemy, Lt. Thomas Whitfield. Together they right a century's old mistake and find a love that will last through all eternity.
Reviewed by Shannon Honea
Alison's Legacy
Sizzling.....Sparks and desire spiral through this enchanting story, The Runaway Fiancee, by Rose Murray. Desperate and independent, Zan is determined to stand on her own two feet even though she finds herself homeless and destitute. Zan litterally falls into the arms of a fascinating stranger and swept up in a tale spin of destiny she can't control. Read and discover how this strong woman conquers all obsticles to take her future in her own hands and live a love strong enough to vanquish all doubts and fears.
Rose Murray
Looking for a steamy, passion filled romance, then L.A. Caveman by Christina Crooks is a must. Stanna is determined to show her Neanderthal boss, Jake that she is capable to run the Magazine. However, Jake says his magazine is not the place for Stanna's feminist column. Watch the electricity spark between Stanna and Jake as they learn to compromise in business but never in love.
L.A.Caveman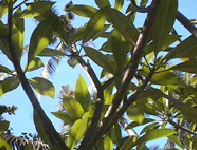 Romance, Mystery, and Suspense are all wrapped up in Traveling Bug, by Edna Curry. Diane Foerman finds herself falling desperately in love with her nemesis, Jeff Banning. Traveling to Peurto Vallarta with Jeff Banning's company, as a tour guide, Diane gets caught in a piracy scam. Does she trust the man she's come to love even though he appears guilty of the crime or does she put her doubts aside and believe in him? If you love mystery and romance this is one book you'll keep for future readings, over and over and over.
Traveling Bug

Leta Nolan Childers has once again led us through an amazing work of the imagination in Demons Of Desire. A self-righteous angel has ironically found himself inhabiting the body of an imposing black stallion, named Demon. His mission is to unite two very stubborn humans in a love that's indestructible. The only problem is, the two humans refuse to follow his scheme. Laugh and cry as you watch Samantha and Lennie literally fight to gain a love that's all consuming.
Demons Of Desire
The Best of Presents
Christmas gifts aren't always found wrapped up under a tree. Nick, a man blind to the notion of love, finds the most precious gift of all, Noelle. She helps him face the future with hope and anticipation, while receiving a deep and abiding love to hold forever in his heart. Celebrate a night of love and Christmas Magic as you read The Best of Presents by Mary Weinachten.
Mary Weinachten
Read A Change of Destiny by Marilyn Mansfield and experience a love everlasting. Holly Reed travels to the future and not only is cured of her cancer, but meets Brock Dylon, a man that awakens her soul and showers her with a love that time itself can't destroy.
DiskUs Publishing Proudly Presents Marilynn Mansfield!
Leta Nolan Childers captures your imagination in each story she creates. Live the tale of a Tarzan want to be, falling from a vine at the feet of your beloved Jane in The Best Laid Plans; a Clairvoyant trying to convince Prince Charming she's his destiny in Lasting Impressions; or Cupid planning a love match between two very stubborn opposites in Cupid's Revenge. Experience a love only your imagination could comprehend. Looking for laughter and romance, check monthly for Leta's newest releases. She constantly has a new story ready for print.
Leta Nolan Childers
Joanie MacNeil's A Traditional Affair is a charming story. It captures you in the first sentence and never lets go. Read a Traditional Affair and discover whether Overbearing Scottish Lords truly still exist. I believe they do!
Joanie MacNeil
Joan Grammer has once again ensnared us in a splendid story of adoration and heartbreak in My Neighbor, My Love. Jenny, a headstrong young woman instantly falls in love with Paul McCloud, her new neighbor. Not wanting to admit that the rambunctious Jenny has turned into a desirable young woman the past two years, Paul runs away to escape the all consuming desire he has developed for her. However, love can never be denied. Jenny and Paul find themselves thrown in a whirl wind affair that will change their lives forever. An inspiring tale where the power of love gives strength to all.
Legend Love by Joan Grammer, is a warm heartfelt time travel romance. Heather Reilley travels back in time to the 14th century, to find the man of her dreams, Lord Ranaulf of Braunswyth Castle. With a love stronger than time itself, they overcome treachery, witchcraft and the obstacle of ages to live and love happily forever.
This story was a pleasure to read. My only complaint is it didn't last long enough. I can't wait for Joan's next novel.
Joan Grammer
Reviewed by Shannon Honea
Elaine Hopper is a new, very talented writer. Her stories are full of intrigue and adventure that keep you sitting on the edge of your seat dying to know what's going to happen next. Tigers Play Too Rough, Careless Whispers and Over The Moon will be available this summer through New Concepts Publishing

Elaine Hopper

Elaine Hopper creates a fascinating tale in Tigers Play Too Rough. Romance, Intrigue and Adventure keep your heart racing as Zoo Keeper Kelly Kerrigan and Lieutenant Nick Bradley are thrown together in a frantic search for escaped Bengal Tigers. However, before they know it, not only are they fighting for the safe return of the tigers, but for a primal passion that both can't deny.
Enchanting...Over The Moon by Elaine Hopper, will have you longing for a love that can only be experienced by those few who look beyond the outer shell to the person within. Do you experience a passion that throws you over the moon? Read Over The Moon, and see for yourself that it truly does exist.
Next to Forever by Elaine Hopper is inspiring. You'll be gripped in the first sentence and won't be able to put it aside. Suzanne, single mom, tries to raise her son Josh the best she can, but soon discovers he needs a strong male role model in his life. Kyle, the vice-principal of Josh's school, decides he's the one to fill that position. Love, betrayal, trust, and faith all weave together this heart warming story that let's you once again believe in love eternal.
Into History, Into My Heart" by Joan Grammer, is a romantic and sensual time travel. Jayellen Conner finds herself transported 200 years into the past, where she settles into a life filled with love and Ben Hargrave, the man who's love would unknowingly conquer time itself. As you read this book, you'll find yourself swept away to anothr time, filled with action, history and romance. I hope that there will be a sequel to this exceptional book.
Joan Grammer
Reviewed by Shannon Honea
Sizzling....Passion and Suspense entangle Eli Conners and Mercenary Ray Jean as they travel through Central America's dense jungles to rescue a captive journalist. Ray Jean has no where to run as Eli embraces her in a love she never wanted to experience.
Lori Flster in Brazen, has once again written a story to tempt every soul.
Brazen
You'll find no thistles or thorns in Ciara's roses as she claims the victory of love from her clan's sworn enemy. The Panther of the Highlands. Read Paper Roses by Celia Collier and return to a time of intrigue and suspense.
Paper Roses
Charming...A Whisper At Midnight, by Jennifer Lynn Hoffman is a touching tale of two people struggling to overcome their doubts and fears in one another. Angel Walker, the notorious stage coach robber and Read Spencer, a man shot and permanently injured by Angle, find themselves snowed in a cabin and have to take care of each other. A whisper at midnight never sounds so enduring as when Read and Angel both overcome their mistrusts and commit themselves to a love they can't deny.
A Whisper At Midnight
Irish Lullaby by Leta Nolan Childers is electrifying. From the beginning, you're captured in a tale of two stubborn souls fighting at every turn to control their own destinies. Meave and Sean both must come to grips that they can't live their lives based around past experiences. They've got to take a leap of faith in order to achieve the abundant love both desire and long for.
Irish Lullaby
A reader can expect nothing but the best from Leta Nolan Childers and they won't be disappointed. The Best Laid Plans Backfire, is a sensational story. Three romances are wrapped up in this hilariously provocative story that will keep you either gripping your sides in laughter or quickly going to the next page dying to know what's going to happen next. Purchase The Best Laid Plans Backfire and if you don't have the first one, The Best Laid Plans, I highly suggest it, too.
The Best Laid Plans Backfire